Get Ready for Bloggy Olympics!!!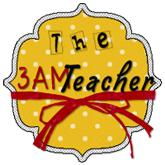 Join The 3AM Teacher, the Reading Olympians, and over 80 education bloggers as we take you through a tour of the Reading Olympians Root Study Program!!
As a grade 1/2 teacher, I am very excited to be trying out the "Reading Olympians Root Study Program" in my room for the next few months. My goal for my students this year was to really hit home with phonics and for my kiddos to understand words and know how they work.
Things I have really focused on this year were:
short vowels

vowel digraphs (i.e. au, ee, oa)

silent-e words (i.e. lake)

digraphs (i.e. ch, th, sh, ph)
The next few months my focus will be:
prefixes & suffixes

dipthongs (i.e. oi, oy, ou)

r-controlled vowels (i.e. ar, or, ir)
I was very happy to open this reading program up to find a great focus on my next mission.... Prefixes & Suffixes! This program is SO easy to use and comes with everything you need to create a successful lesson! I'm loving it so far!
So here's how I have used this program so far:
Prefixes

: For the past few weeks we have discussed many prefixes and their purpose. The kids are amazed that a few letters can change the entire meaning of a word and seemed to really catch onto how prefixes work. I love to do "Read and Write Around the Room" activities, but I decided to make groups and create a "Carousel" brainstorm this week. This is how it works: I gave each group of 4 or 5 a coloured marker and a chart paper. Each group brainstormed words with the prefix at the top. When I said "CAROUSEL", the students moved their chart papers clockwise. The next group added their ideas or ones that were not on the paper with their colour.
When the CAROUSEL was completed, as a class we sifted through our brainstorms and created a class list. We had to discuss the reason many words were not "real" words and why. We also discussed how a prefix changes a word and for that to happen, the original word needs to be a word. My kiddos loved this activity and it made them recognize words that they use in their everyday language and what they really mean.
I truly believe students will learn to read and write better when we focus on why words are spelt the way they are. Learning ROOTS is a big step in the right direction and I am very excited to continue this type of program in my classroom! Thank you The Reading Olympians and the 3AM Teacher for inviting us to be a part of this great program!
Discover the program IN ACTION in more K-6th grade classrooms as you Pass the Torch!! Get ideas, discover the progression of the program, and enter the Raffle for a chance to win ONE of the three prizes listed below!!
First Place Winner : Gold Medal
Prizes: Complete Reading Olympians Program
$50.00 Amazon Gift Card
50% off Discount Code for a 1-Day shopping spree at The 3AM Teacher's Etsy store!
Second Place Winner: Silver Medal
Prizes: $25.00 Amazon Gift Card
40% off Discount Code for a 1-Day shopping spree at The 3AM Teacher's Etsy store!
Third Place Winner: Bronze Medal
Prizes: 30% off Discount Code for a 1-Day shopping spree at The 3AM Teacher's Etsy store!
Pass the Torch!!!
Click the image below to visit the next blog
Kindergarten:
Grade 1 & 2
Grade 3 & 4
Grade 5 & 6
a Rafflecopter giveaway